Classes & DVDs
Cake Classes with Mike McCarey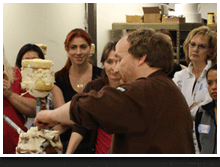 Cakes Class with Mike McCarey
Mike teaches cake classes throughout the country and in his studio in Redmond, Washington. Please
follow us on Facebook
, call us at 425.869.2992 or check our calendar below for our up coming class dates.
Calendar of Events

Mike McCarey's Advanced Cake Sculpting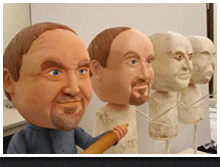 Mike McCarey at Craftsy.com
With wit and wisdom, Mike will teach you how to sculpt your cake and decorate it with lifelike features, using reference photos of your subject. The oversized head offers the advantages of easier carving, lots of cake to serve, and best of all, a light-hearted and humorous way to celebrate your subject. This cake-decorating class also includes some serious cake stand construction. You'll learn how to build a sturdy and customized support structure before stacking layers of cake reinforced with buttercream (recipes included!).
Watch at Craftsy

Classic Car, Timeless Techniques with Mike McCarey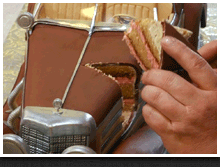 Mike McCarey at Craftsy.com
Get in gear with cake artist Mike McCarey as you learn how to sculpt any car cake from the curvaceous body down to delicious detail work.
Watch at Craftsy

All Star Cakes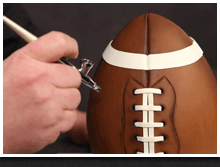 Mike McCarey at Craftsy.com
Make the game-winning play for any sports fan's party! Learn the structure and decorating techniques you need to create amazing football and sports shoe cakes.
Watch at Craftsy

Incredible Cut-Out Cakes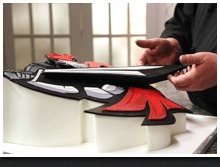 Mike McCarey at Craftsy.com
Expand your offerings with spectacular, budget-friendly cakes for more business and happy customers. Transform sheet cakes into custom designs with dramatic dimension.
Watch at Craftsy

Cake DVD by Mike McCarey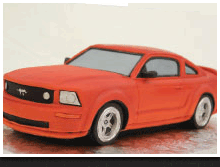 Cakenology with Mike McCarey
We are excited to offer Mike's first DVD in the Cakenology educational series, "Car Cakes"!
The DVD covers the entire process for sculpting a 3D to scale car cake. While the specific car demonstrated on the DVD is a Ford GT Mustang, the principles can easily be applied to any sculpted car.
The DVD runs approximately 2 hours and contains downloadable recipes for buttercream, sculptable cake, modeling chocolate, supply lists and reference materials.
Contact Us to Order