About Us
Mike's Amazing Cakes
Anything is possible within the limits of gravity and physics. Whether you have an appointment with us, call us on the phone or contact us through the Internet, we will take you through the creative process.
With your specific idea and reference material, we will translate your concept into a 1, 2 or 3 dimensional design applied to a standard shaped cake or the cake can be a sculpture itself. Whether it's a simple 6-inch round, a tastefully subtle or extravagantly elegant wedding cake or a corporate event to serve 5000, we will take your cake fantasy and turn it into a tangible reality.
We then transform the design into a culinary treat with an unlimited choice of the highest quality, all natural, fillings and flavors. The process is complete when, as the saying goes, "you have your cake and eat it too"! The final creation can be picked up from us, delivered to a wide area locally, or we can ship in anywhere in the country.

Mike McCarey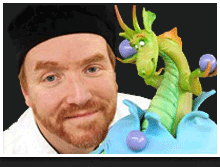 Mike McCarey
Mike McCarey's career in cake started right out of high school with a two-year term at a cooking school in Denver, Colorado. From there he worked as a pastry chef at various hotels, caterers, restaurants and bakeries in Colorado and New York. It was in Washington State where Mike decided to release his inner sculptor and focus on cake exclusively. He started his company "Mike's Amazing Cakes" and has been shaping and smoothing butter, batter and chocolate ever since. His cake "art" is guided by two principles: the concept being presented should be as accurate and true to life or as animated as possible and should have as unique a perspective as can be conjured up. The structural principals of architecture constantly influence Mike's work and he draws great inspiration from a wide range of illustrations such as Alphonse Mucha, Norman Rockwell or James Christensen.
Mike's focus on unusual and cutting edge design, accurate to scale replications and the ability to ship across the country has earned him a diverse clientele including Dustin Hoffman, Arnold Palmer, Rodney Dangerfield and Julia Child. The same diversity extends to the corporate world from Disney and Microsoft to Starbucks and the Smithsonian.
Mike is recognized within the industry as a leader at his craft, developing new and creative techniques in the work of cake sculpture, winning many awards.