Cake Info
Cake Flavors & Cake Fillings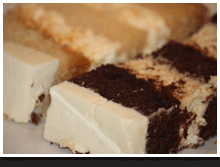 Cake Flavors & Fillings
Our cakes are baked to order daily with 100% natural ingredients and are never frozen. Our fillings are crafted with real butter, sweet cream, imported chocolate and all natural flavorings and liqueurs. Listed below are the choices for you to create your own unique paring or choose from the list of our more popular flavor combinations.
Cake Flavors

Macadamia Nut
Chocolate
Lemon
Vanilla
Orange
Banana
Marble
Coffee
Hazelnut
Red Velvet
Almond
Spice
Coconut
Poppy Seed
Pecan
Cake Fillings

Pineapple
Marionberry
Raspberry
Orange
Passion Fruit
Strawberry
Chocolate
Almond
Almond Roca
Peanut Butter
Lemon
Caramel
Key Lime
Mocha
Coconut
Bailey's Irish Cream
Peach Schnapps
Grand Marnier
Kahlua
Frangelico
Rum
Amaretto
Popular Cake Combinations

Macadamia Nut w/ Pineapple
Chocolate w/ Bailey's Chocolate
Lemon w/ Marionberry Cream Cheese
Vanilla or Chocolate w/ Raspberry
Vanilla w/ Orange Peach Schnapps
Vanilla w/ Passion Fruit
Orange w/ Strawberry Grand Marnier
Banana w/ Kahlua Caramel
Vanilla or Marble w/ Chocolate
Coffee w/ Almost Roca Kahlua
Hazelnut w/ Frangelico
Vanilla w/ Lemon Cream Cheese
Coconut w/ Key Lime
Coffee w/ Cream Cheese
w/ Rum & Chocolate

Consultations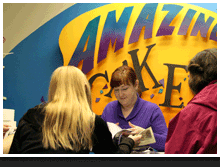 Cake Consultations
Thanks for considering us. Due to the changes brought on by the Covid out break which required downsizing of the company, we are very limited on being able to consult with people in the shop so we're now exclusively dedicated to doing very effective consultations through email and phone calls. I can give you quotes and answers to any and all questions you might have. It's important to know we are completely custom and are capable of doing any design you have in mind. Whether you already have a design in hand or you do an image search on Google to find inspiration, we have no limits on what we can do for you.
We have scheduled samples available for arranged pick up from our shop. A certain scheduled selection will be available Fridays at 3:00 every week. We can also quick mail the samples for $5.00 per shipment if you can't come by on Friday afternoons. We go through the U.S. Postal Service.
You can also order cupcakes in flavor combinations if you'd like to try something you don't see on the schedule. They're $3.50 a piece with a minimum order of 6. We don't ship cupcakes. Email us and I can send you the current flavor offerings. We do ask that you contact us ahead so we can arrange a specific time for pick up so we can have them ready. It will be a very quick and easy process with no fees involved.
Request a Consultation

Ordering A Cake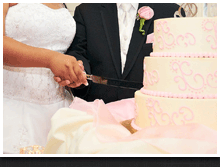 Ordering a Cake for Your Special Day
When it comes to personal occasion or special event cakes, we prefer to have 2 weeks notice for the order. There is some flexibility depending on the current week's workload. Please check for availability. For a wedding cake it is suggested you be on our books 3 months before your event. We require a 50% non-refundable deposit at the time the order is placed.

Cake Pricing
Wedding Cakes
Wedding cakes start with a base price per person which includes a standard, smooth butter cream finish, appropriate borders and the first set of legs and a plate. Anything added beyond the standard finish, such as rolled fondant or handmade flowers, would add to the base price. Because the design possibilities are endless, please call or visit us for an accurate quote on your particular design.
Servings
Per Serving
1 - 100
$3.35
101 - 300
$3.15
300 +
$2.95
Prices subject to change without notice
Special Occasion & Event Cakes
Since our shop is completely custom and the range of what we do is so varied, an exact price list is impossible to publish. Complexity of design and number of servings determine prices. Most sculpted cakes have a minimum number of servings required while non-sculpted cakes are more flexible. Whether you visit, call or email us, we can quickly provide you with a quote that will best fit your design and budget.

Cake Delivery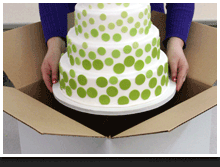 Cake Delivery
Delivery
Delivery and set-up to Eastside and Seattle locations is available seven days a week. Delivery is also available to the greater Puget Sound region. Please call us for a quote on a particular delivery area.