Cake Info
Cake Flavors & Cake Fillings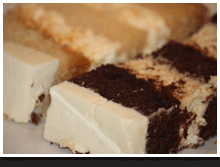 Cake Flavors & Fillings
Our cakes are baked to order daily with 100% natural ingredients and are never frozen. Our fillings are crafted with real butter, sweet cream, imported chocolate and all natural flavorings and liqueurs. Listed below are the choices for you to create your own unique paring or choose from the list of our more popular flavor combinations.
Cake Flavors

Macadamia Nut
Chocolate
Lemon
Vanilla
Orange
Banana
Marble
Coffee
Hazelnut
Red Velvet
Almond
Spice
Coconut
Poppy Seed
Pecan
Cake Fillings

Pineapple
Marionberry
Raspberry
Orange
Passion Fruit
Strawberry
Chocolate
Almond
Almond Roca
Peanut Butter
Lemon
Caramel
Key Lime
Mocha
Coconut
Bailey's Irish Cream
Peach Schnapps
Grand Marnier
Kahlua
Frangelico
Rum
Amaretto
Popular Cake Combinations

Macadamia Nut w/ Pineapple
Chocolate w/ Bailey's Chocolate
Lemon w/ Marionberry Cream Cheese
Vanilla or Chocolate w/ Raspberry
Vanilla w/ Orange Peach Schnapps
Vanilla w/ Passion Fruit
Orange w/ Strawberry Grand Marnier
Banana w/ Kahlua Caramel
Vanilla or Marble w/ Chocolate
Coffee w/ Almost Roca Kahlua
Hazelnut w/ Frangelico
Vanilla w/ Lemon Cream Cheese
Coconut w/ Key Lime
Coffee w/ Cream Cheese Mouse
w/ Rum & Chocolate

Consultations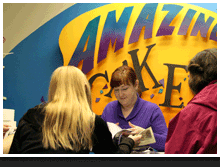 Cake Consultations
We meet with clients in our shop by appointment only. Please call to set up your complimentary consultation appointment. Cake orders can also be taken over the phone if no appointment is necessary. Scheduling an appointment gives you the opportunity to taste the cake flavors available, browse through our extensive portfolios and meet with a consultant regarding your event.
If you would like to sample cake but you don't need to look at our portfolio or meet with a consultant, you can stop by and pick up the available sample cake in a to-go box during regular office hours or call to find out about our cake tasting open house schedule. Please call ahead to find out the flavors available and to ensure we have sample cake ready.
Request a Consultation

Ordering A Cake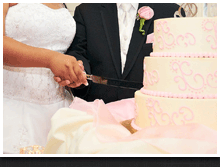 Ordering a Cake for Your Special Day
When it comes to personal occasion or special event cakes, we prefer to have 2 weeks notice for the order. There is some flexibility depending on the current week's workload. Please check for availability. For a wedding cake it is suggested you be on our books 3 months before your event. We require a $50.00 non-refundable deposit to reserve your wedding date. For sculpted cakes and cakes that will be shipped, a 50% non-refundable deposit is required at the time the order is placed.

Cake Pricing
Wedding Cakes
Wedding cakes start with a base price per person which includes a standard, smooth butter cream finish, appropriate borders and the first set of legs and a plate. Anything added beyond the standard finish, such as rolled fondant or handmade flowers, would add to the base price. Because the design possibilities are endless, please call or visit us for an accurate quote on your particular design.
Servings
Per Serving
1 - 100
$3.35
101 - 300
$3.15
300 +
$2.95
Prices subject to change without notice
Special Occasion & Event Cakes
Since our shop is completely custom and the range of what we do is so varied, an exact price list is impossible to publish. Complexity of design and number of servings determine prices. Most sculpted cakes have a minimum number of servings required while non-sculpted cakes are more flexible. Whether you visit, call or email us, we can quickly provide you with a quote that will best fit your design and budget.

Cake Delivery & Shipping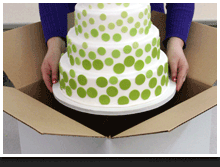 Cake Delivery
Delivery
Delivery and set-up to Eastside and Seattle locations is available seven days a week. Delivery is also available to the greater Puget Sound region. Please call us for a quote on a particular delivery area.
Shipping
We ship our cakes all over the United States and points beyond. Shipping is done via counter-to-counter service though the major airlines. You will need to pick your cake up directly from the airport. We require a minimum two week notice for an order to be shipped and a non-refundable 50% deposit. We send the cake 3-4 days ahead of the event date in an effort to accommodate any potential mishaps that may occur. Although the likelihood of an error is rare, accidents do happen and we need time to react and correct any situation that may arise. Based on this system, we shipped more then 150 cakes last year with a 100% success rate. Our cakes arrive completely assembled and only require being kept cool at a temperature between 65-75 degrees.